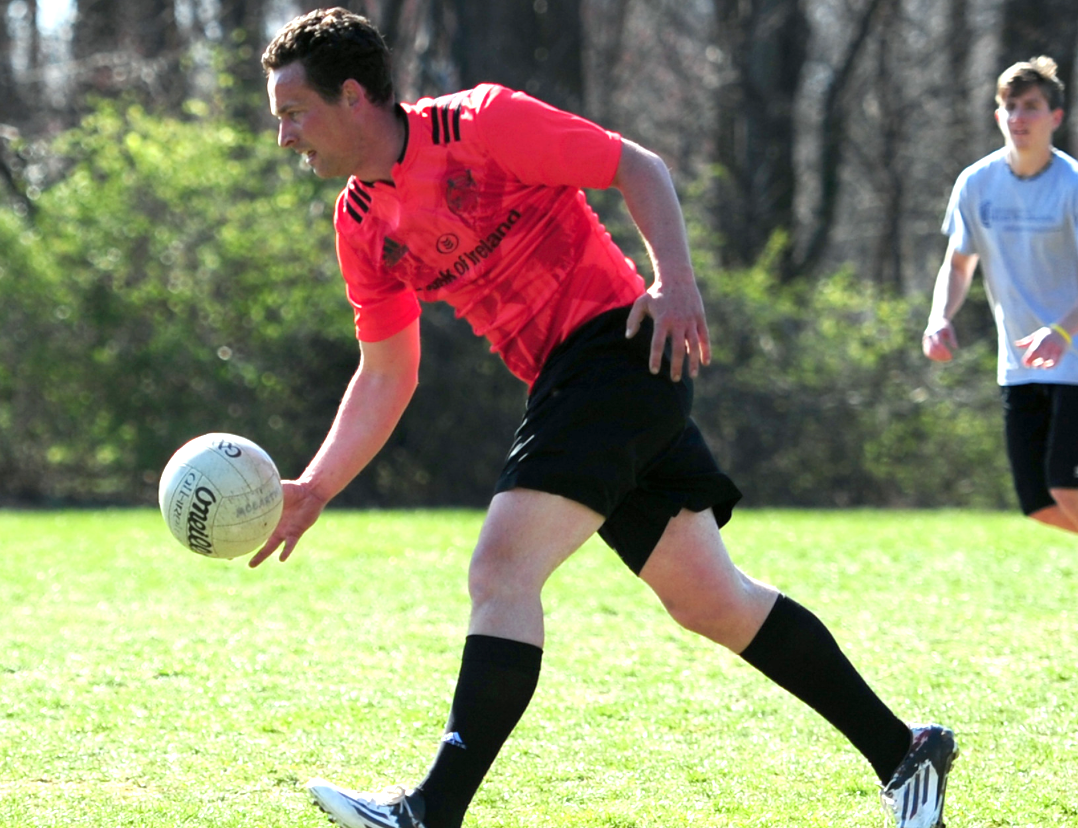 Q: WAIT…WHAT IS IRISH (GAELIC) FOOTBALL?
A: It's a great mash-up of soccer, rugby (well…rugby light; there's no tackling), basketball and volleyball…and maybe a few other sports we haven't considered. Unlike soccer, there's lots of scoring, and there's no off sides.
In fact, you can find clubs throughout the United States in more than 50 cities—from San Fransisco (where the U.S. national championships for men and women were played last year) to right here in Greater Washington, D.C. region. Our Fairfax City club is part of that mix. The governing organization is the USGAA.
Here's a taste of it (no, we look nothing like this on the field...and sorry about the crappy music)
Q: I'VE NEVER PLAYED SOCCER OR ANY OF THOSE OTHER SPORTS, DOES IT MATTER?
A: Nope, not in the least. You'll pick up the game quickly, and learn the essential skills after just one drop-in match.
Q: WHAT ARE THE RULES?
A: They're pretty simple, and you can learn them in 5 minutes. Here's an overview.
Q: DROP-IN MATCHES?
A: Each Saturday or Sunday evening (depending on the weather), we draw anywhere from 18-30 people (men and women), and we simply choose up sides and play for 90 minutes, more or less, with a referee and awesome new goal posts.
Everyone plays, and everyone touches the ball, and no one gets marginalized. You'll be hooked after one match. We have a great group. Just watch:
Q: I HAVE SOME ATHLETIC PRIDE, SO I DON'T WANT TO LOOK LIKE AN BEFUDDLED ASS WHEN I COME OUT TO PLAY. IS THERE ANY WAY I CAN PRACTICE BEFOREHAND?
A: We get it. That's why we have a 30-minute clinic for newcomers every week before our drop-in matches.
We teach the basics of the game and run through a few light drills that will help when jumping into a match.
Q: DOES IT COST ANYTHING TO PLAY?
A: Nope. And likely never will.
Q: WHAT DO I BRING EACH WEEK FOR DROP-IN MATCHES?
A: Water, cleats (we play on grass), as well as a light and dark shirt (we split teams up that way).
Q: MAY I INVITE FRIENDS?
A: Absolutely. Spread the word. Again, no experience necessary; we'll teach you the game…men, women and teens.
The Great Game.
(For Kids)
Now, for the first time, kIds in the DC area can play the great game in an organized league ... beginning in September, 2018.
Fairfax Police Youth Club will begin offering instruction from certified coaches, along with terrific Sunday-only matches, this year!
10 Reasons Kids Will Love Irish (Gaelic) Football
1. The new Irish football program will have divisions for kids from elementary to high school. Sundays only: 90 minutes a week of pure fun and cross-training skills that are great for perfecting other sports.
2. Girls play, too. And they're awesome.
3. Everyone touches the ball—many times a game.
4. Lots of scoring. Think basketball or team handball on turf.
5. It's fast. Think of the movement of soccer and basketball with the passing of lacrosse and finesse of volleyball.
6. There's a position for every kid, regardless of skills or body type.
7. To play, all you need is a ball, some goals and maybe some cleats. (Hint: FPYC will supply the first two. Yes, it's one of cheapest sports on the planet.)
8. Players get to use their hands to catch, pass and even score.
9. The rules can be learned in 5 minutes and are as simple as eating lunch.
10. There are no travel teams or ranking of kids with the hope of college scholarships that don't pan out. (It's also affordable and won't eat up your weekends.)